Bridge's New York Coffee–Try our original New York-Style Coffee!
 Try our original New York-Style flavored and non-flavored premium coffee. Enjoy the heavenly aroma of Hazelnut, Macadamia Nut, French Vanilla and Pecan Nut flavored coffee varieties. Or, how about a cup of our non-flavored premium medium roast or high roast coffee? For more information visit our Cafe website at www.bridge-ny-coffee.com!
New York Style Bagels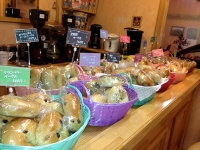 Have you ever tried a New York-Style Bagel?
New York-style bagels are slightly hard on the outside with a deliciously chewy, soft center. We recommend slicing our bagels in half and toasting them for 2-3 minutes. Try them lightly buttered or with a little cream cheese. Our healthy bagels contain no butter or eggs and are boiled and baked. Every day, our customers can enjoy choosing from several different varieties of our freshly made bagels.
Here is our bagel menu list. (Note: 5 or 6 types of bagels are available each day on rotation)
Plain Bagel
Cinnamon Raisin Bagel
Whole Wheat Bagel
Fig Bagel
Chocolate Bagel
Spinach & Cheese Bagel
Black Bean Bagel
Cranberry Walnut Bagel
Black Sesame Cheese Bagel
Tomato Basil
 Pumpkin Bagel
Caramel Bagel
Rosemary Garlic Bagel
Barley Bagel
Oatmeal Bagel
15 Rice Grain Bagel
Poppy Seed Bagel
Apple Cinnamon Bagel
Coconut Mango Bagel
Orange Peel Bagel
Lemon Peel Bagel
Komatsuna Cheese Bagel
Nanohana Bagel
Green Soybean Bagel
Rye Bagel
Blueberry Bagel
Coconut Mango Bagel
Banana Walnut Bagel
Prune Bagel
Carrot Cheese Bagel
Strawberry Bagel
Multi-grain Bagel
Sweet Potato Sesame Bagel
Multi-grain Raisin Bagel
Multi-grain Walnut Bagel
15 Grain Raisin Bagel
Rye Walnut Bagel
Cranberry Bagel
Fig Walnut Bagel
Onion Pepper Bagel
Corn Bagel
Caramel Apple Bagel
Brown Sugar Raisin Bagel
Caramel Coconut Bagel
Strawberry & White Chocolate Bagel
Sweet Potato & Apple Bagel
Sweet Green bean Bagel
Green Tea & Sweet Red bean Bagel
Green Tea & White Chocolate Bagel
Green Tea & Chocolate Bagel
Orange Peel & Tea Bagel
Apple & Tea Bagel
Lemon Peel & Tea Bagel
Tropical Fruits & Coconut Bagel
Bacon Pepper Bagel
New York-Style Big Cookies
Take a break!
Our big New York-Style cookies and coffee are the perfect combination. Treat yourself to a hot cup of coffee and one of our many delicious cookies! As with our bagels, we offer several varieties of cookies on a daily basis. Check out our cookie menu!
Cranberry White Chocolate Cookie
Sesame Chocolate Cookie
Peanut Butter Cookie
Coconut Caramel Cookie
Double Chocolate Walnut Cookie
White Chocolate & Cashew Cookie
Spice Tea Cookie
Green Tea & Chocolate Cookie
Orange Peel & Chocolate Cookie
Caramel Chocolate & Almond Cookie
Pumpkin Cookie
White Chocolate & Macadamia Nut Cookie
Caramel & Cashew Nut Cookie
Coconut & White Chocolate Cookie
Strawberry & White Chocolate Cookie
Fig & Walnut Cookie
Apple & Caramel Cookie
Lemon White Chocolate Cookie
Oatmeal Chocolate & Raisin Cookie
Tropical Fruits and Coconut Cookie
Fruit cake Cookie